Kayak Fishing Guide (Freelance)
Featured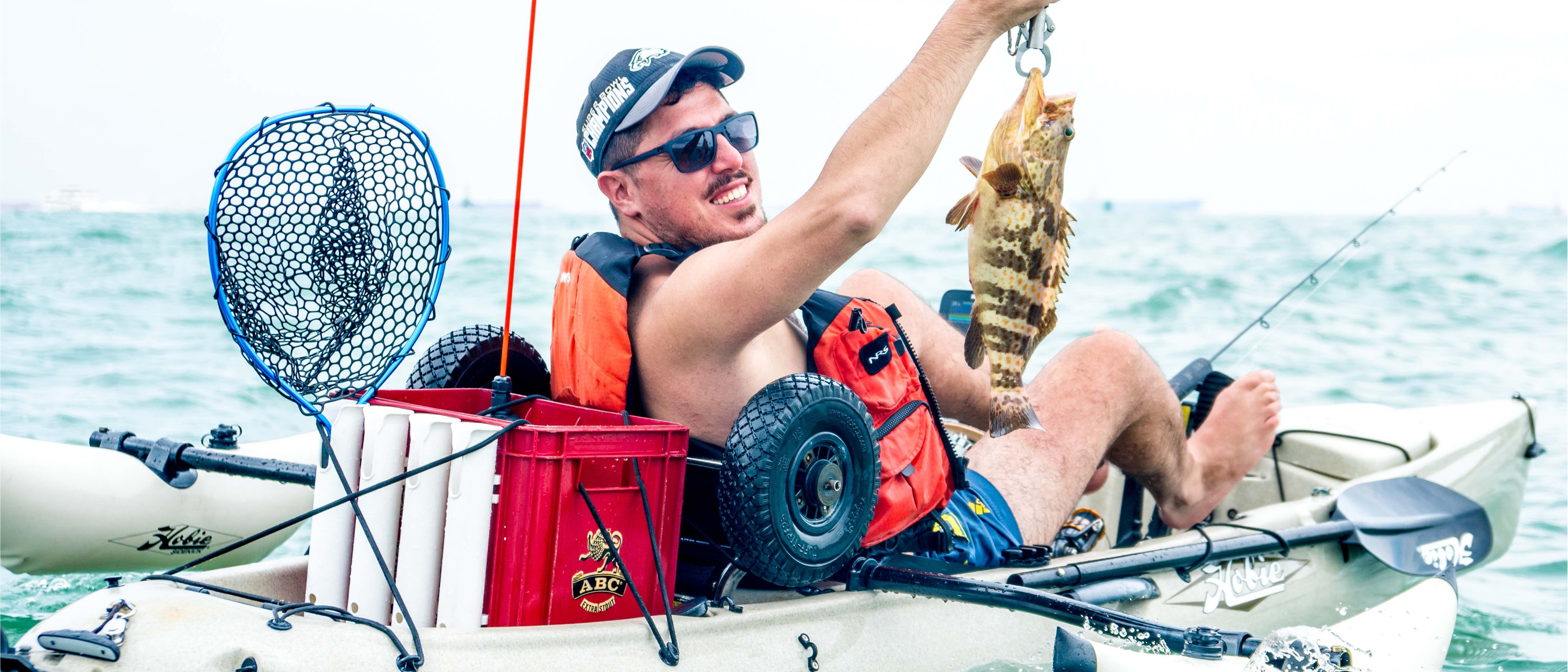 SKILLS
English language proficiency | fishing skills | presentation skills | ability to swim
JOB DESCRIPTION
As a freelance guide, you'll need to run at least 1 trip per month to maintain your kayak fishing guide position with us.
Of course, if you have a flexible work schedule and would like to run more kayak fishing trips, perhaps 1 per week or more, we're also happy to have you on board!
In short, if you currently have a full-time or part time job, keep it! Guide with us only on the days that you are free, or whenever your schedule allows it.
find out more about us at fever.sg/joinus
Benefits  
Pay: Make more than double what an average Singapore tourist guide makes in a day.
Team: Work with a great young team that's equally passionately about having a great time and exceeding the expectations of our guests. 
Free Kayak: Free access to any of our Hobie kayaks and equipment anytime! Grab our sailing kayaks or tandem kayaks and go for spin! 
Training: We will train you to be a kayak fishing tour guide and an expert at using the Hummingbird fish finder. 
Career: If you choose to take the (Singapore Tourism Board) STB professional tour guiding license (optional), We'll sponsor 100% of the fees!
Location: The ocean is now your office! We fish in places like Sentosa, East Coast and Pulau Ubin.
JOB RESPONSIBILITY
Your Responsibilities
Role: Kayak Fishing Guide 
1. Safety 
Perform the safety checklist to determine the sea worthiness of all fishing kayaks  
Conduct safety briefing using the safety checklist
Determine if the weather is suitable for fishing before the trip and seek immediate shelter if weather turns hazardous.
Be confident in kayak capsize and rescue techniques 
Never do anything that will compromise the safety of you and your guests
2. Problem solving skills on the water  
Confidently handle any situation out at sea, be it minor to major problems. Your guests will only look to you for help and reassurance 
Recognising an emergency and handle it according to training.
Know the principles of performing a rescue on water
Handle any unforeseen situation
3. Certified First Aid trained
Get certified or renew your Basic First Aid license.  
Perform nautical first aid, I.e hooks, cuts, seasickness. 
4. Kayak Maintenance  
Know how to set up a kayak according to the kayak fishing set-up check list 
Know how to fix mechanical problems of the kayak, I.e Replacing Rudder line, Broken Rudder pin. 
Ensure that all equipment are washed with fresh water before storage 
5. Create an excellent kayak fishing experience 
Ensure that your guest has the best chance of catching a fishing with the right bait, right fishing technique and spending most of the time on high probability fishing spots.
(instructor)Teach and share your kayak fishing knowledge to ensure that your guest are competent kayak fisherman at the end of the trip
Create an experience that involves other aspects like swimming, island hopping, fish preparation demonstration, wonderful commentary about the surroundings and story telling
Provide a ridiculously high level of customer service, maintain a minimum 4.5 star rating on 3rd part review sites.
Understand the concept of peak end experience and ensure that your guest always ends the day on a high note. (final fish, jumping into the water, celebration beer, a free gift or whatever else you can think of)
6. A Professional Tour Guide
A comprehensive product knowledge of Singapore. (City, Islands, sea, vessel, Wildlife, Marine life, marine parks, economy and more..)
Share personal stories about fishing and about Singapore. 
Be their local friend, encourage conversation by making them do at least 50% of the talking 
Give insights into Singapore that only a local expert would know
You are encourage to take the specialised licensed nature tour guide licensed offered by Singapore Tourism Board
7. Complete and pass the full fishing guide training programme
After completing the course, you can begin leading kayak fishing trip on your own.   
8. Fishing skills and sea knowledge 
Know how to tie and set up simple and easy to change fishing rigs
Master the techniques of kayak fishing, bottom fishing, anchor fishing, and drift fishing
Know your fish: common and uncommon fish identification.
An Expert at using the humming bird fish finder I.e Finding new fishing location, reading sonar charts, chirp imaging and side scan. Marking down fishing spots 
Know the changing of tides and how is affects the currents. (route planning)
9. Physical fitness 
Maintain peak physical fitness: Based on SwimSafer Gold Standard, 100m front crawl, 100m breaststroke, 100m backstroke, 50m survival backstroke, 50m side stroke.
Or a minimum of Silver based on the new IPPT system, push-up, sit-ups and running
10. Photography Skills
Understand the basic of photo composition.
Use the photos to tell a story of the kayak fishing trip
Capture the highlights and candid moments of the trip
Take a variety of shots from zoom, super zoom, wide angle, giant fish, close up, medium frame, expression of joy, landscape
You have the optional choice of learning Adobe Lightroom editing,
JOB REQUIREMENT
English language: An 'O' level English language proficiency 
Passion: You have to love fishing (no kayak fishing experience needed)
Personality: A warm personality which puts people at ease.
Guide: You're very comfortable talking to a small group of people.
Swim: You are confident swimming in the open ocean. 
OVERVIEW
Experience the most thrilling way to catch a fish in Singapore. Rocket through the water on the leg-powered Hobie fishing kayak to the best fishing locations in Singapore. Whether you're a complete novice or a seasoned angler, we'll have a trip that's perfect for you! You can learn everything you need to know about kayak fishing on the gentle waves of East Coast or island-hop from Sentosa to the Southern Islands, home of Singapore's richest reefs and unspoilt beaches. Just bring your hat and sunblock, we've got everything else covered!