Product Marketing Manager (Fintech)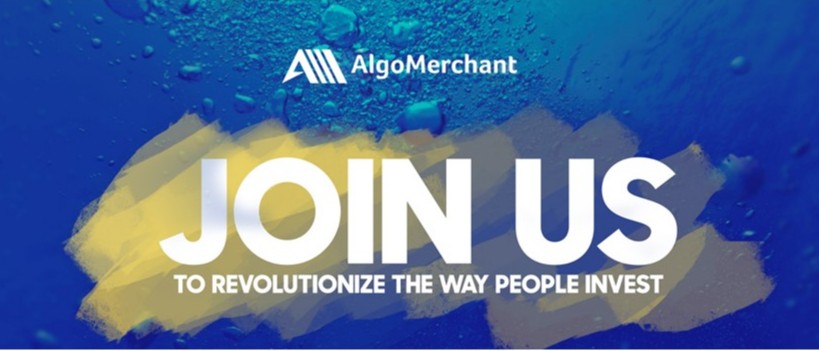 JOB TYPE
SKILLS
investment | data mining | sql | asset management
JOB DESCRIPTION
We are a dedicated team of traders and software engineers working to drive mass adoption of intelligent trading algorithms for both retail investors and financial institutions globally. Our intelligent trading algorithms are created using our novel proprietary Machine Learning framework and big data processing capabilities to generate 'Alpha' returns by exploiting market inefficiencies and trading based on non-random, statistical patterns. We facilitate investors to tap the best 'Alpha' to manage their investment accounts with complete simplicity. The AlgoMerchant platform and the team is now ready to serve every investor's needs in their journey to trade.
JOB RESPONSIBILITY
- Creating Ideas & Solving Problems
You will first and foremost be responsible for working closely with the CEO to set the product vision for the company. This will involve aggressively researching and analysing the market to identify key consumer trends and opportunities for innovation in existing or new product lines. You will also lend your financial knowledge to the team and tap on your data analysis skills to analyse the feasibility of the team's and your ideas.
- Putting Ideas into Action
Ideas are nothing without meaningful execution. You will spearhead the development of a roadmap for building multiple world-class products. You will be responsible for liaising with internal stakeholders (UI/UX Designers, engineers, data scientists, quants & business development teammates), as well as external stakeholders (vendors & key partners) throughout the product life cycle, from requirements to rollout. Although you do not need to code, you are familiar with technical jargon and can comfortably communicate with tech teams. You will drive internal Agile scrums, be the point person for ensuring key deadlines are met and be the key bridge between engineering and business.
- Closing the loop
You will proactively launch beta and pilot programs to get early feedback on your products. Your team (Product team) will also provide support for any technical or functional issues faced by the customers, in close proximity with our Customer Support team. You will determine a full set of metrics (e.g. product usage patterns) to measure our products and live by these metrics on a day-to-day basis. These metrics will help drive iterative improvements in our products.
- Evangelizing the brand & product
Using your deep knowledge of the AlgoMerchant product lines, you will assist our marketing team to build campaigns to generate product awareness. You will also help Sales in developing product & technical collaterals to support sales pitches and demonstrations. As you will often be required to explain our products to our customers, you should also be comfortable speaking to an audience of any size.
- Building a strong product culture
AlgoMerchant is a product-driven organisation, which means that the product team drives the day-to-day activities of the company. As a Senior Product Lead, you will not only be at the centre of the hustle and bustle, but you will also be responsible for inspiring others and maintaining a strong product culture revolving around the core values of autonomy, empathy and sustainability.
JOB REQUIREMENT
- A good degree in finance or any quantitative field
- Working experience in Asset Management/Securities firms or financial institutions, or an interest in finance
- Passion in personal investing, and comfort with financial terminology / investing lingo
- Good fit with the startup environment & culture. Ability to work fast & accurately in pushing your ideas (we don't believe in hand-holding anyone)
- Demonstrated interest in the FinTech space
- Proficiency in IT skills & technical jargon. Knowledge of languages such as SQL and Python would be useful.
- Strong data-driven mindset. Knowledge of data mining / machine learning processes would be a huge plus.
- Strong ability to manage timelines. Previous product or project manager experience will be advantageous.
- Ability to effectively communicate with team members and interface with clients and partners
- Fluency in English, with additional Asian language(s) beneficial
WEBSITE
INDUSTRY
Financial Services and Products
OVERVIEW
We are a passionate and multi-cultural team of traders, data scientists, product visionaries, and software engineers working to revolutionize robo-investing for retail investors all over the world. Through our customized, Artificial Intelligence-driven solutions, we are enabling people on the street to fully automate their personal investments, all within minutes!

The AlgoMerchant platform provides direct access to investment algorithms developed by the best quantitative portfolio managers from all over the world. These algorithms cover a diverse range of markets and products from Equities and CFDs to Futures. AlgoMerchant facilitates retail investors to tap the best 'Alpha', tailored to their risk appetites, to manage their personal investment portfolio with complete simplicity. The AlgoMerchant platform and the team are now ready to serve every investor's needs in their journey to invest.

Our progress has been accelerated by prominent angel investors and venture capital (East Ventures), and we have been featured in numerous publications, including TechinAsia & The Business Times. Currently, we're a market leader, and growing fast in Singapore, Hong Kong, and South East Asia.
Join us and become part of the revolution in the world of retail finance!
MISSION
Drive mass adoption of algorithmic trading for both retail investors and financial institutions globally
CULTURE
We are a dedicated team of traders and software engineers working to democratize systematic investing for retail investors.