Testimonials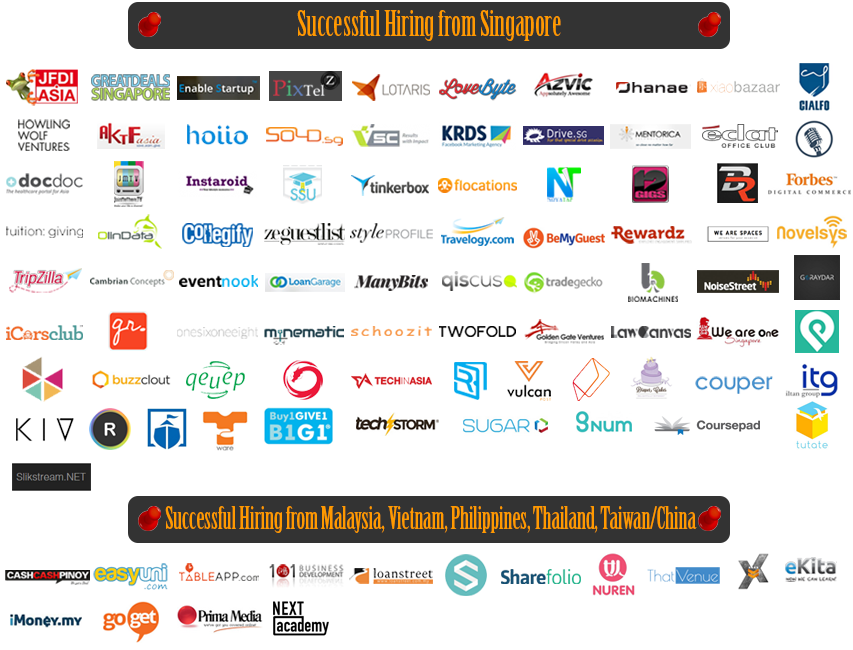 I would just like to let you know that you are doing a fantastic job at StartupJobs.Asia. During our recent recruitment round, we posted ads on a number of platforms, including Monster, LinkedIn and other "big name" sites – but the best quality candidates came from StartupJobs.Asia.

The profile of candidate that your website attracts is not merely limited to the stereotypical tech geek with wacky ideas but no practical experience. We received applications from investment bankers, management consultants, accountants and former/failed entrepreneurs eager for a chance to get back in the game. In fact, we were contacted by so many high-quality applicants that we had some very tough decisions to make. The final three candidates that we shortlisted all came from your site. Perhaps we shouldn't even bother with any other sites in the future!

I know that this website is a labour of love, borne out of a genuine desire to breathe fresh life into the entrepreneurial ecosystem here in Asia. You guys are doing great work. There will come a day when the very best talents in the region aspire to become entrepreneurs instead of work for blue-chip MNCs. When that day comes, the world will be a better place. Society as a whole will benefit from more creative solutions to problems, more jobs created, a more passionate and engaged workforce, and greater social mobility. And all of this will be thanks to people like you.

We got really good talents pretty fast. Quite surprised myself especially that it is way more affordable then the other online recruitment platforms. A big thank you indeed to Startup jobs.

We have one successful hiring from Startupjobs Asia in March, and another one will be joining us this month. We have posted several developer jobs since March this year, and we have received hundreds of applications from India, Sri Lanka, Philippines. We really appreciate Startupjobs Asia for its free jobs posting platform and hope it continues to help more startups!

Highly Recommended with 5Star

StartupJobs Asia has been a great source for the recruitment of talents. We have received the most number of applications from this source compared to the other job agencies and also hired a few developers too. Apart from that, we greatly appreciate the fast response of the team. We know that we can trust StartupJobs Asia as we continue to grow our team in Azvic.k!

Your site is great. We received many applications and we hired one developer from there.

Thanks and keep up the great work!

First and foremost, we deeply appreciate it that Startup Jobs Asia has opened up its platform to allow us to post our job ad for free. We have had close to 30 applicants over 1 month – of which we engaged with 5 over formal interviews before extending an offer to 1 candidate (which was accepted!). We found the platform easy to use, and more importantly a good source for talent.

Posting the opening on StartupJobs.Asia is useful because we know we are attracting talents who are keen on joining the startup scene. I appreciated the team's help in ensuring my job posting was optimised and keywords were properly inserted to make sure there were relevance.

Because of that, hiring the right candidate was easy. We have since hired an awesome intern by using StartupJobs!

eKita is a great fan of StartupJobs.asia! From initial launch, we had dozens of good applicants filling our jobs box and hired 2 interns and 1 front-end dev seamlessly and easily in the first few months since SUJ launched! We are right now about to hire a fourth! SUJ has been a great asset for us to grow our team.

Finding capable entry level developers has always been a challenge for startups. Thanks for the fast service as we managed to find and hire a great guy within 2 weeks of putting up our job posting. We really like the speed and quality of hire.

We use multiple job boards in hiring for Loanstreet. Startupjobs Asia ranks among our favourite due to it being the most effective in attracting a certain type of talent profile that is very suited to the startup environment. We have successfully hired from their service and would recommend it to others out there.

Being a Taipei-based start-up with expanding business in China, the next logical step for us was to find a local employee in Shanghai; the right person with matching expectations and motivation. It was through a friend's recommendation that I heard about startupjobs.asia and it is through this portal that we found the most suitable candidates.

As the candidates had found us through this start-up specific portal, their expectations were mostly suitable to the employment we offer; those were persons looking for a young and flexible environment such as ours, aware and accepting of potential down-sides of working with a start-up.

We ended up employing through startupjobs.asia and have been enjoying a fruitful and very positive collaboration with our employee.

As a small startup company, it is very difficult to hire a staff because we work in my house. I posted job advertisement in several site and get rejected when interview candidates in my house Thanks Startup Jobs for referring a candidate who is willing to work as an intern and learn in my company. Good job!

Hiring talent can be a time consuming and expensive process; and for startups, this is always a challenge. Startup jobs provides a hassle free and convenient way of acquiring/scouting talent. They are solving a key pain-point for startups and we wish them luck for their future endeavours. We have hired two interns successfully through the platform thus far and recommend other startups to try the platform as well.

Startup Jobs has and continues to be an essential channel in our recruitment efforts. Our very first hire from Startup Jobs is now a Director with DocDoc!

Relevance, Speed & Results. STARTUPS JOBS ASIA has provided very relevant applicants compared to other job directories. We have fulfilled our hiring requirements through the service faster than other portals which we have used. Within 2 weeks, we have secured our first hire.

When it comes to recruiting, startupjobs.asia is always the first site that we list on. The quality of the candidates and applications were well vetted and structured. We have done few successful hiring so far from Startupjobs.asia. Highly recommended and would continue to use it! Keep up the good work – kudos to the team at startupjobs.asia!

StartupJobsAsia is doing fantastic job to help startups in Singapore finding the right candidates that fit to startups. Because of StartupJobsAsia, we managed to get exposure and meet the candidates who are looking to join startups. We hired successfully our sales manager and interns through StartupJobsAsia community!

We finally managed to hire our statistical data intern after rigorous selection processes by both myself and my CTO. We would like to thank Startupjobs Asia for feeding our talent pipeline for this position with considerable number of quality leads. Our final selected intern came from your pool of leads. We will definitely use Startupjobs Asia for talent lead generation!

So far, I have successfully filled 3 positions using StartUpJobs.asia.

In fact, I had posted my job positions on other paid jobboards, but StartUpJobs is the one that delivered the most relevant candidates that led to eventual hires.

Big thanks from TripZilla for helping us with our recruitment needs!

- Eric Koh, Founder

Cambrian is fortunate to have had a steady stream of high quality candidates ranging from fresh graduates to MBA holders to seasoned professionals. As a result, the team has expanded.

Whenever we meet other founders faced with recruitment difficulties, we would always recommended Startupjobs – not only because of its extremely to use interface but also the candidate pool.

I am currently using Startup Jobs for my Job Posting. I managed to recruit 1 photographer and am still receiving more qualified candidates for other post.The most important thing, is that, I can have my Job posting for free. Thanks, Startup Jobs Asia

Startupjobs.asia is an awesome website for start-ups looking to hire and meet candidates. We managed to recruit 2 developers from a long list of good candidates that applied. Startupjobs.asia has gone viral and is becoming the hot spot for anyone looking for a job in a Start-up. I got applicants from not only Singapore but also Malaysia, Indonesia, Philippines, India and few other ASEAN countries.

We currently use Start Up Jobs Asia exclusively for all our recruitment needs – we find them to be a reliable and useful source and we've found some fantastic people that we would never have connected with otherwise – passionate and likeminded individuals that are the perfect fit for our company. We definitely recommend them!

We have received nearly twenty plus applicants for the Java developer position and we hired one local guy successfully. amazing FREE platform that help us to hire a talent with in a week. another funny thing is still we are receiving Java developer applications… at-least 3-4 applications a month….

Thanks Guys.

Hope your platform help more start-ups

I was impressed with the quality and relevance of the applications I got from the first months of existence of SUJ, both technical and non-technical. Truly interesting candidates and very low noise. Thanks to SUJ, I found business partners and contractors I hired. Keep it up!

I submitted a job ad for 12 Gigs Asia and got applications the very next day, which led to a successful hire within 2 weeks. Awesome job, StartupJobs Asia!

StartUp Jobs Asia is like a genie in a bottle. You make a recruiting wish, and in the blink of an eye it's fulfilled. Pure magic. ~ James Norris

It's important for Startups to work with passionate and motivated individuals. Since most applying candidates know that they will be working for a startup, as Startups, we don't need to additionally manage expectations. We love the simple interface and quick approval process for listing jobs. We hired our first employee thanks to Startup Jobs, which speaks volumes about the quality of candidates the site has attracted.

It's important for Startups to work with passionate and motivated individuals. Since most applying candidates know that they will be working for a startup, as Startups, we don't need to additionally manage expectations. We love the simple interface and quick approval process for listing jobs. We hired our first employee thanks to Startup Jobs, which speaks volumes about the quality of candidates the site has attracted.

Posting our requirements on Startup Jobs Asia is one of the best decision I've ever made with my startup. We received several quality resumes from candidates in South East Asia and even in Europe. We talked to many candidates and eventually decided to offer the job to the best candidate. It's only more than a month since he joined us but I'm pretty sure that we've made the right choice.