Testimonials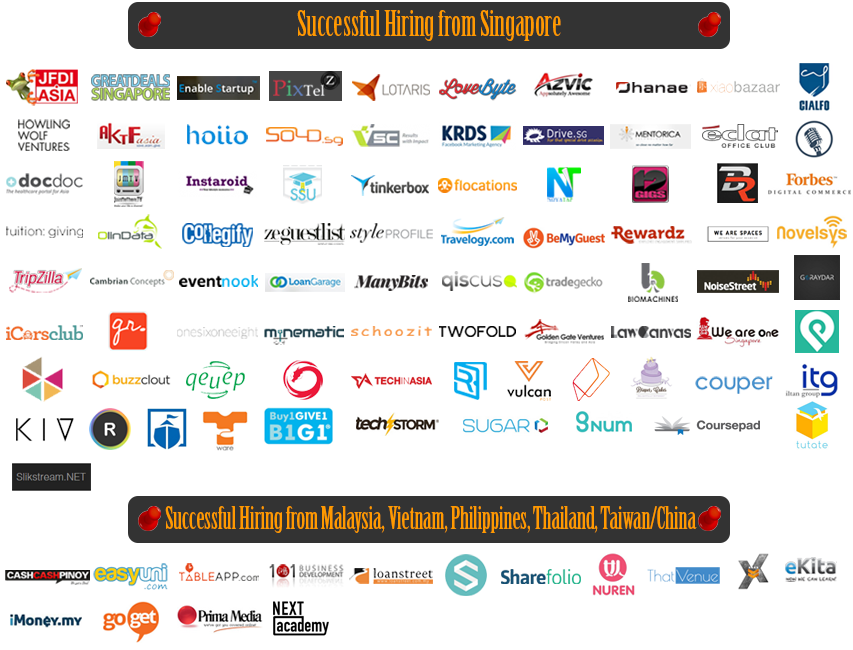 The platform was the most effective in terms of getting us quality candidates. We had so many applicants we managed to fill the position in 4 weeks. I definitely recommend it. Keep up the good job guys!

-- Adeline Woo,
Diaper Cakes Singapore

Firstly I wanted to personally the team at StartupJobs.Asia for doing a fantastic job. I don't know what's your secret sauce, but you've manage to attract really great talent with the Startup mindset and experience into your community/platform.

As a Startup from Malaysia, we found it really tough to find the right candidate with relevant Startup experience and mindset. We've used the all the 'famous' recruitment sites and even resorted to head hunters, with no luck.

We turned to StartupJobs and we've managed to make some awesome key hires (not just interns) in just a few weeks, which consist of talents from around the region. We are pretty excited to have team members with different backgrounds, each contributing uniquely to the growth of Code Army. It has also made our talent pool 20x larger compared to just looking at the Malaysian ecosystem.

If you're a Startup from around the region considering where to post job ads for new hires, don't even think about it - just post your ads up on StartupJobs and just hit 'pay now' to feature it!

Startup Jobs is fantastic! Couldnt have found a better portal that could give us the quality of candidates we are looking for! We had more than 20+ applications within 3 days of job posting and we wish we could hire all of them! We have a few successful hires through Startup Jobs

I've been looking for a business co-founder for ThatVenue.com and Startup Jobs gave me quite a few interested inquiries over the months. It never stopped! I finally met up with someone local and started the start-up journey with him. After 6 months, we're both full-time now and had won hackathons and en route to building a solid business.

As a startup, we often have to think of ways to hire talents who are willing to work in startups. Startupjobs.asia addressed this issue immediately. We posted a few positions and were satisfied by the responses that we had. We posted for a marketing operations intern, and in the end, we found a new partner who will be joining our management team! Thanks StartUpJobs!

I tried Startup Jobs Asia as a means to hire a social media manager, knowing that it's one of the top platforms in Singapore for startup job seekers. I'm thankful that through the platform, we've made a successful hire. I found the site intuitive to use, and like the fact that I could view candidate's resumes and contact them immediately for an interview. Thanks, Startup Jobs Asia!

Startup Jobs Asia plays a pivotal role in nurturing creative and entrepreneurial minded talents in Singapore. It is a premium destination for those who would like to tap into quality talent pool in Asia region. It would have been very difficult to find with right quality and mindset without Startup Jobs Asia. Thank you so much!

This is a really cool platform – stands out among so many other hiring portals, especially useful for startup & entrepreneur circle. We successfully hired a couple of brilliant minds and interns via Startupjobasia!" Kelvin, Chief Guru, Enlinea Asia.

We've gotten our first successful hire for buzzclout within a few weeks after we posted up the job description. The process was extremely smooth and transparent without administrative hassle unlike other job portals out there. Will be expecting more good things to come from startupjobs!

Startupjobs.asia is tremendously useful. We posted a job ad and got up to 30 applicants within a few days, with more trailing in even after weeks. This is a great addition to the tech community in Singapore/Asia. If you're a startup and you're hiring, there's no reason you shouldn't be on here. We successfully hired 2 people through this site and both of them were quality candidates. No regrets using this site!

Thanks for setting up such useful platform. Being a founder of a startup is lonely and helpless when there was only myself conceptualizing the idea. Luckily, after posting on Startupjobs.asia for only 2 weeks, I received more than 100 applications, and I quickly engaged a very talented student intern to kick-start the project.

Thanks to Startupjobs.asia that allows me to put up attractive job posting, conveying my startup idea clearly to others. This is especially is crucial for all innovative startups out there.

Startups need a different breed of people when it comes to hiring and StartupJobsAsia has nailed it - in being able to reaching the people with the right mindset and right expectations. We had 5 successful hires ( almost 80% of our team ) from 200+ applicants via SJA. SJA has the right team, the product is easy to use and it has a good reach to potential applicants. We wish good luck to team. We have more job posts on its way!

StartupJobs.asia was very helpful in our search for expanding the development team. Getting technical talents in Singapore can be difficult; and kudos to the team at StartupJobs for integrating themselves well into the tech community in Singapore. We successfully found a new addition to our team within just a week of posting the job ad. Thanks once again; and SUJ comes strongly recommended!

We have used Startup Jobs a few times and get quality applicants each time. I enjoy the seamless no-nonsense interface where the essentials like resume can be found quickly.

Anyways, thanks for providing an excellent, free solution that works!

StartUp Jobs Asia is an awesome platform that has enabled VSC to source out many candidates in a very short space of time. I am very happy with the fact that VSC is able to shortlist and subsequently select twenty applicants out of hundreds that have applied across job positions. Kudos to Ben Chew and co for this excellent initiative!

The StartUpJobs.asia platform is truly fit for purpose, and easy to adapt to. Right from the signup process, to the ease of posting a job, and receiving applicants is quite straightforward for an employer. I have received several credible applications, which is what I would expect from a job site. The look is modern, and the layout is easy to navigate. The fact that you allow startups such as mine to post for free, is much appreciated. Keep up the good work!

I have found StartUpJobs to be a really useful platform – we have received CV's from people via this platform that we haven't received elsewhere and the candidates are exactly what we are looking for. We will definitely continue to use this network.

Startup Jobs Asia has enabled us to find an intern for our graphic design needs.

Thank you for your effectiveness!

Thanks for this platform, it's really great, we got the position hired now, it's the most effective of all other sites /forums I tried.

This is really focus which is good. Will definitely use in future

Startupjobs.asia is the first place we come to everytime we need to recruit. Startup life is very different from that in corporate, and the applicant's coming to Startupjobs.asia know what they're getting into. Mindset makes a huge difference. We managed to find a really great CTO through your service, and would definitely recommend it to other young companies looking to hire.

Startupjobs.asia was incredibly helpful on our search for an operations manager. The onboarding was really straight-forward, the interface was easy to use, and we had our job ad posted within ten minutes. The fact that we got 1800 views overnight was also nice! That being said, the quality of applicants was great. Indeed, we ended up hiring the first person that we interviewed. We strongly recommend StartupJobs.asia for startups looking to hire in SG and abroad.

Startupjob.asia offers a very easy and appealing interface to post job offers. Being a start-up specific jobs portal, the potential candidates are all looking to work in a startup and in a way, filtered out candidates looking for jobs in MNC or SME. The result is you get good candidates willingly to follow their passion and takes some risks in exchange for more learning opportunities.We have since hire our Software Manager from Startup Jobs Asia

Hiring for a start up is not easy, when you go to traditional sites to post jobs, start up founders sometimes have to convince them to join a start up. Candidates coming from startupjobs are all prepared to join a startup and raring to go.

I posted for an intern and got a part time editor with his own connections of writers, how's that for a great platform?

Definitely a great service, site and the first place I go to whenever I need to hire talent.

We have been using Startjobs.asia for all our recruitment requirements. It has become the first choice for any job that we may have in Minematic be it full-time or looking for a short gig. We managed to hire a great UI developer through your service and we would be continue using it in days to come. Keep up the good work.

Startup Jobs Asia has been the best performing jobs portal for us compared to the other job portals we have tried. We advertised for a Singapore / PR mobile app programmer. Through Startup Jobs Asia we managed to get at least 2 – 3 local applicants which is much better than the others. The other job portals that we tried have yielded purely foreigner applications, thus not achieving our search criteria.

Startup Jobs has given us 2 precious team members. Our first developer and designer hire came from SUJ. We had a great response both times when we put up the call for resumes. The process on SUJ is simple enough and the lack of clutter and "options" makes it easy to reach out to talent. Thank you Startup Jobs Asia.

We received alot of applications from the job posts we put up. After much deliberation, we have finally engaged one of the Android developers we found from StartupJobsAsia. The talent they provide is top-notch, and this developer we're working with is definitely one of the more hardworking and earnest ones around, with good foundation in his craft and relevant experience. Definitely our go-to website for recruitment!

We have successfully hired our barista via Startup Jobs! Not only is he good with his latte art, he's also A BARISTA GEEK! Chatting with our entrepreneurs, mentors and investors about coffee and geek stuffs. Just what we needed in our space.

Perhaps we were first time lucky but we managed to find the developer we were looking for at StartupJobs Asia. It's great for startups who want hassle-free, simple and straightforward approach to hire talents. Recommend you give it a try because you never know who you gonna meet here.