Testimonials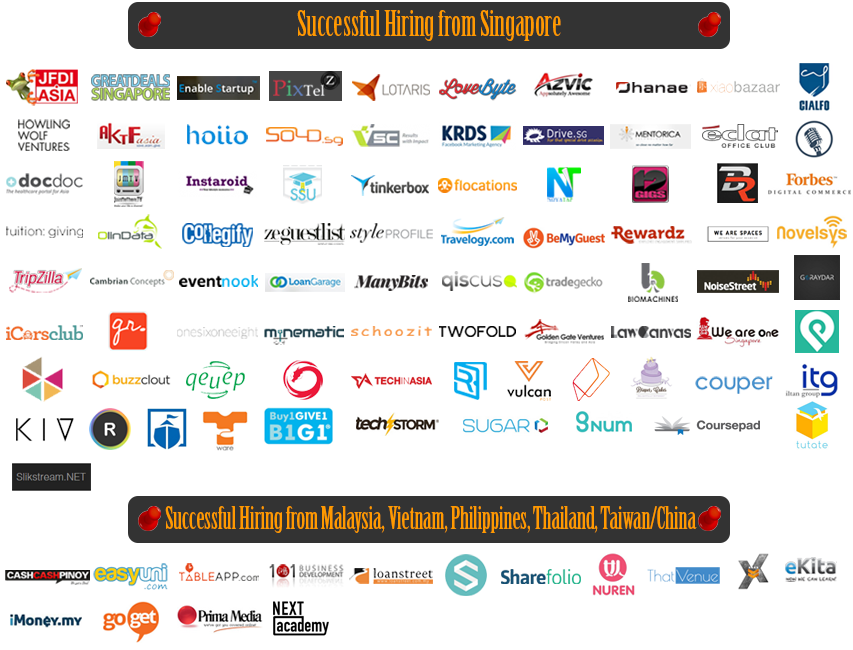 I really want to thank you for creating this platform because we have received quite a number quality applications for the Tech Hawk and Marketing Sparrow positions. I am sure that the platform has and will continue to benefit us and many other startups. - Really good job there! Love it!

Thanks so much! We got some interesting applications from Startup Jobs Asia. Great business model you have!

Startupjobs has been a great help to our recruitment process. We had a good number of resumes on the first few days of posting an ad. The people applying are definitely worth interviewing and hiring.

Startupjobs.asia is amazing! Within 2 weeks of the job posting, we received more applications from more than 10 very qualified, very educated and very experienced individuals (we accepted 4!). Thank you SUJA!

Thank you for letting us use your site to find candidates for our internship programme. We have so far gotten many many applicants even until this day. As we have a pretty stringent hiring process, we finally hired an excellent intern from SUTD. Her name is Sharlene Wong and we are happy to have her onboard our team.

We are looking froward to many more hires using Startup Jobs Asia!

We are amazed at the ease of recruiting using Startup Jobs Asia. From the superior user experience of setting up a job post to the quality of the candidates, it out-performs anything that we have tried befrore on the market. Till date, we have 3 amazing hires.

I posted a job advertisement on startupjobs.asia and am very impressed with the number and quality of the applicants. WOrking in a startup is a vastly different experience from most other jobs, and it takes a certain type of jobseeker to flourish in such an environment. What I like most about using startupjobs.asia is that most candidates here are passionate about working in a startup environment.

I successfully filled on of my positions via a candidate from here, and I strongly recommend all startup businesses who are looking to hire to use startupjobs.asia and start getting relevnt applicants for your company!

The website is very easy to use, great for publishing job offers and receiving resumes and applications, we've been very happy with the results.

We started posting on StartUpJobs.Asia because we weren't satisfie with the performance from some other sites. I can attest that we are seeing a significantly greater volume of high calibre candidates now, and I am delighted to report one of them joined us today! StartUpJobs.Asia has clearly established itself as the #1 online recruiting tool for Mentorica Technology

We posted a few positions we were hiring for and we have now successfully hired 3 interns, 2 directly from startupjobs.asia and 1 through on of the people we found through startupjobs.asia. So I wanted to write a small testimonial as I know how much it help when starting up.

Here it goes: "startupjobs.asia has helped us a lot in hiring new staff, and they are doing a very good job providing quality instead of just quantity. You might not get as many consultation as from other similar online channels, but most of the ones you get, are from our experience, of much higher quality. If you are hiring for your start-up I would strongly recommend putting on of your posts on startupjobs.asia.

The results for my company, Street Smart Mobile, is tremendous. Within a month of placing our positions for apprentices, we have 2 highly motivated and talented individuals dedicating their time and resources for the cause and we are merely weeks away from launching our awesome App, Street Smart University, to place world class learning in the palms of the rising Asian middle class.

It is an undeniable winning case – startups flock to SUJ because it is THE place to find talent, and talented individuals wanting to dedicate themselves to world changing ideas find the positions there. While still at humble beginnings, we are proud to be a partner of SUJ and know that so many other companies can greatly benefit, perhaps even more, than how we have.

if you have the opportunity to work with SUJ, place a position, find a job, partner with them, don't hesitate. You're talking about Asia's premier Start jobs portal!

StartUpJobs.asia is really a great website for startup companies to look for promising candidates. We have managed to recruit 1 great intern from our job positing in StartUpJobs.asia and hoping to find more talents through this portal.

To all potential job seekers:

If you are waiting for a sign, this is the place to look for! Come and experience working for a startup! You will be able to make an immediate impact and have the ability to influence big decisions!

To all startups:

If you are looking for talented staffs to join your team, start by posting your jobs here and see amazing results!

A very professional company to work with, we received more than 5 CVs in few days, arranged interviews and hired the guy to work as a social media marketer..

I strongly suggest to support Startup Jobs Asia for your startup needs!

Thanks Ben & his SUJ team! I'm sifting through a whole bunch of applications for Expara now. Keep it up :)

Flocations found its Marketing Manager thanks to Startup Jobs! High quality candidates within 2 weeks, and on-the-spot hiring! Well done.

Startup Jobs Asia Team you are doing a great job! Job posted – first application received within hours – perfect match – hired! Keep it up!

I have posted listings for FlagAHero on Wednesday. Didn't expect to get responses in just 1 day! Good WORK STARTUP JOBS ASIA! Something somewhere must be going right!

Just another happy patron of startupjobs, you guys must be doing something very right. I got an amazing response like in no other job site.

Gideon Simons

Hi guys – just wanted to thank Ben and the crew behind Startup Jobs Asia. It addresses a real pain point that the Startup market is facing today (my bet is that the situation will grow even more critical going forward). I already have some very promising candidates lined up for interviews (will give you a update posting later if all goes well). Lets get the word out that Startup Jobs rock! And Startup Jobs Asia is the place to find them!