Testimonials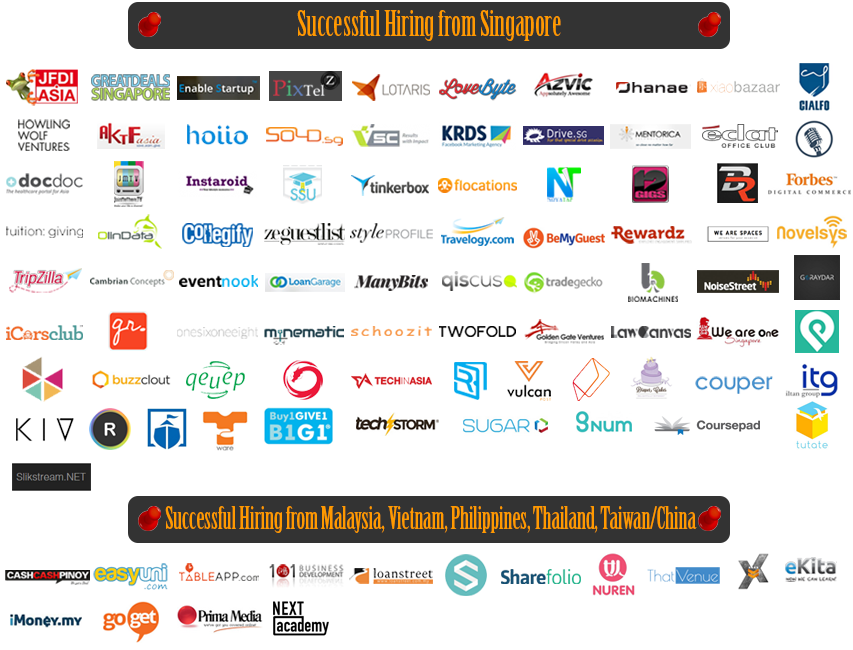 I've used Startup Jobs Asia since February last year to help post internal jobs online. So far, it has helped me to onboard some successful hires! Great tool to use for those who are looking to source for roles in the Digital section. Keep up the awesome work!

Meliza Putik - HR Manager, Helpster Indonesia

"Over time startupjobs.asia has proven to be one of our key to make successful hires in Singapore and Thailand; recently it helped us find a specific senior profile that we were urgently looking for. Totally worth it!"

Nicolas Brunet - Founder & CEO, Instaroid

Among the many recruitment platforms we used, StartupAsia was one of the websites that gave us the most suitable candidates. In addition, their team has always been responsive and willing to adapt to our needs as a startup. Would recommend working with them!

We have been putting job vacancy on Startup Jobs Asia and the response is incredible!

Thank you, Startup Jobs Asia! We finally meet the perfect talent for Business Development. Startup Jobs Asia is helping us indeed to find high quality talents for our office.

Before i encountered Startupjobs.asia, my company was using jobstreet to hire talents. It was costly and the applicants weren't really targeted.

Soon after i came across your portal, i've managed to hire talents that i wanted fast!

It was cost effective and highly targeted! Since then we are using Startupjobs.asia for all our hirings now.

Thanks for solving our hiring problems!

We have hired 3 of our key team members and also a few interns from Startupjobs.asia.

Applicants from this platform understand the startup environment and that helps us to find the suitable employee faster.

I strongly recommend Startupjobs.asia to other startup job portals.

I love Startupjobs Asia. All our staff were recruited using the site (because the quality of applicants tends to be much higher), and it is literally the only recruitment site I use.

Startup Jobs Asia's quality of candidates pleasantly surprised us. Most job platforms require you to sieve through a ton of unrelated applications and resumes but the quality through Startup Jobs Asia's platform that filled our needs were relatively spot on. We're definitely a fan of the platform for both in-house and remote placements in the future.

"As a startup, we see the value of our employees as more than just their technical skills, experience, and asking salary. A successful hire, really, is contingent on the mindset and outlook of the individual. This was something missing from the job portals I have seen in the past.

With Startupjobs.asia, we've had a string of successful hires - all sharing the same traits - an entrepreneurial spirit and can-do attitude that is crucial to any startup environment. I am excited by the new wave of talents made possible by startupjobs.asia, and will be continuing to hire through them!"

Ever since our founding, MoolahSense regularly taps StartupJobsAsia to seek out candidates who are attracted and mentally eager to work in a startup environment. Till date, we have hired 4 candidates in various functions through StartupJobsAsia. As a talent platform, it is well-curated and vibrant. We appreciate the great work StartupJobsAsia has done to make accessible the talent pool for the startup community. StartupJobsAsia has become a reliable source for us to find talents as we grow.

Thanks to Startup Jobs Asia, we managed to hire 4 super stars to our team. One of them actually came all the way from Kenya! Gone are the days of filtering through masses of irrelevant applicants like the experience we had with another prominent recruitment site. The talent referred by Startup Jobs Asia just tend to be better qualified and are also way more eager to work with startups. That's the reason why we find ourselves coming back again and again to Startup Jobs Asia when we need to expand our team.

3 of our team members came through ads on Startup Jobs Asia. Two of them do business development and have contributed to a 200% increase in our deal content over the last year. They have been integral in partnerships we have signed with AirAsia, Tune Hotels, Tune Talk and Grab.

We also hired our social media manager through the platform. She's been instrumental in our content distribution and messaging.

We look forward to finding more great talent though the platform.

Startup Jobs Asia's platform is user friendly that makes job posting easier and simplifies the hiring process. Also, the available comprehensive database with a varied range of profiles spanning nationalities and professions drawing passionate job seekers closer to the opportunity available in the Startup community.

Startupjob.asia has always been our first choice in hiring. This platform has consistently given us good flows of candidates from across the globe. Candidates from various background usually have ideas on startup working environment and that really saves us a lot of time and effort in managing expectations. We have successfully hired good quality full time staff and interns from Startupjob.asia. We would recommend this platform to any startup for great talent pool, intuitive and easy-to-use website, and strong SEO!

Startupjobs.asia has been immensely useful to us in the early stages of Shoppr. We found 3 of our key talents here a few days after posting the opening. One of our key hires built www.shopprapp.com too!

We've been with them from day 1, and we're very glad to be given the privilege to beta-test some of their features which are now live.

Startupjobs.asia, a convergent platform, connecting the dots between corporate and startup. Evocative yet explicit exemplification of the entire startup ecosystem. It also doubles up as an informative "news feed" for all new entrants, and how they stand out with their MVPs but yet mold into the startup community. The platform captures the zeitgeist of today. ~ Clare

"A really effective platform to fill our hiring needs. Startups have a different kind of environment from Corporates and attract a completely different group of people. I'm glad that startup jobs has kept to its focus and in this way, has attracted a database of really great candidates that understands the start up environment and possesses the qualities to fit. Managed to fill 2 positions from the portal so definitely a successful platform that I would recommend to any start up looking to hire."

StartupJobsAsia has been an amazing tool for ThunderQuote, we found nearly half our interns from there. It's main strength is that people who apply there tend to be self selecting as interested in the startup area, which saves us a huge amount of time and effort in searching - Kevin Ng, Founder, ThunderQuote

We have successfully hire 1 full-time staff & 5 interns within 2 months of using StartupJob.Asia. We spend only very minimal efforts - only submit a job post & you will receive job applications in no time!

I strongly suggest StartupJobs.asia to all local startups & companies as a must used talents hiring platform. Keep up the good work! =)

Its a great platform to get connected with individuals who have the drive and passion for startups. More importantly these individual's expectations falls in line with what is expected in the startup life. listing a job was simple and effortless, would come back here for future hiring."

We were on the search for a co-founder to assume the role of Editor-in-Chief and we found her through Startupjobs.asia! One of the reasons we love posting our jobs on the platform is because we receive plenty of resumes just within a week. With more candidates going into our recruitment funnel, the higher the probability of finding out ideal hire.

Edmund has been an excellent recruiter for honestbee. As the gatekeeper for all who would join us, he has exercised judgment and wisdom in ensuring that we recruit the brightest and best of heart. I'm extremely grateful that he found his way to us via StartupJobsAsia.

Startupjobs is definitely the go to place when recruiting talents for startup companies in Asia! It is more targeted & reliable compared to mainstream job finders and we managed to find a great candidate for my personal assistant within a month. It's refreshing to discover great talents across Asia (and the world) on this amazing site. Thank you Start Up Jobs!

We really like StartUpJobs platform because we can reach out to many talents easily. This is a great platform for startups since we usually don't have the capital to do extensive recruitment. Thank you StartUpJobs!

StartUpJobs has been a fantastic source of finding job seekers that are highly motivated to work for a startup. We've had a lot of success hiring with StartUpJobs. Thanks very much!

We hired two developers through StartupsJobAsia. What's unique about Startup Jobs Asia is that most of the applicants already know they are applying for startups. This saved us time because it filtered out applicants who were looking for cosy IT jobs.

The applicants from Startup Jobs Asia adapted well in a fast moving startup development. Thank you

StartupJobs matched our skills and background perfectly when comes to hiring. On top of that StartupJobs makes hiring easy as setting up is very easy. We are very happy after posting for a few weeks, we manage to successfully hire the person we wanted. We are looking forward to use StartupJobs for the next few hire.

Konsula has been using Startupjobs.asia and we are a very satisfied user! So far, Startupjobs.asia has been providing us with really good candidates and we have successfully hired 2 technical talents, one as a backend developer, and another one as a frontend developer.

Startup Jobs Asia is still my preferred platform to source for startup related jobs. Extremely targeted as compared to mainstream job finders. It became a habit for me to keep an eye out for interesting startup job openings from time to time nowadays. ~ Elvin Zhang (The Co-Foundry)

Most of our startup leads are successful placements from startupjobs.asia, without this platform our lead time for getting quality candidates interested in the startup ecosystem will be so much longer.